Hello !
I installed the latest version of Zerotier One, then when i try to "open control panel" in the task bar, i have an error message (i'll try to join a screenshot). It fact it said "Microsoft edge can't read and write to its data directory :
C:\Users\MAXIME~1.DES\AppData\Local\Temp\zt_desktop_ui_Maxime \EBWebView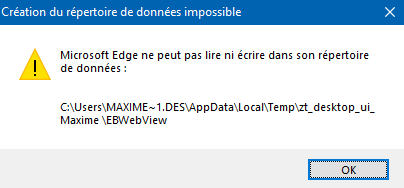 I tried some things but it did'nt work… Do you have an idea to help me ?
Thanks a lot !
Max