Erro access_denied
Erro access_denied
Hi,
You're not giving a lot of context for where you're seeing this access denied message, so I can only take a guess. It looks like you haven't authorized the machine to join the network at https://my.zerotier.com yet. Please see our Getting Started Guide that will help walk you through creating & joining machines to a network.
OI,
correto, obg pela força.
instalei e autorizei no site, acabei excluindo essa maquina e quando reinstalo me apresenta esse na imagem.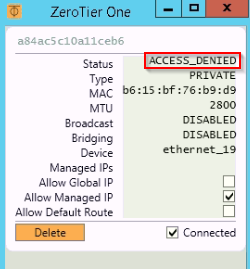 If you deleted the member from your network management page, you'll have to follow these instructions for it to show up in the member list again.
Muito obg pela força.
tudo certo.
This topic was automatically closed 7 days after the last reply. New replies are no longer allowed.