Has anybody else noticed a significant increase in battery usage of the ZeroTier app when using network data since the update to 1.10.x?
In the attached screenshot, the change in the middle of the graph is when I went from home WiFi to mobile/cell data. Nothing else about the phone usage changed - it sat idle with the screen off for the whole 20 hours (the sharp downtick at the end of the graph is active usage of the phone)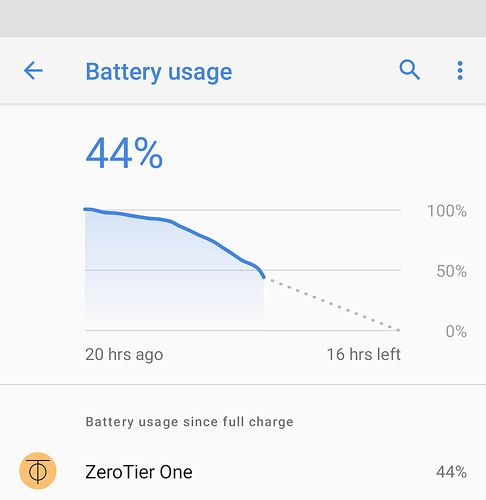 As you can see, Zero Tier One is responsible for almost all of the battery usage since the last full charge, so the change in overall power consumption is presumably due the power draw of the app itself.
Is anyone else noticing this? Is there a reason the app should be doing approximately twice as much when on cell data than when on WiFI? The phone was stationary for essentially the whole time, so it's not like it was constantly having to hand off its network to different cell base stations (actually, I guess it's possible, if unlikely, that the phone was equidistant from two towers, and was constantly switching between them. Is that how cellphones work? Who knows?!)