Windows 11 home install. port error at first and suddenly become like this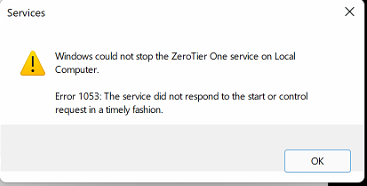 installed no issue but can't join network . message show when try to restart service
after restart pc it back to the waiting system service
Did you try a previous version as suggested?
yes i did. and back to port error issue
I have the same problem on Windows 10. Tried 1.8.6 and 1.8.5 installer—same results: installer gui hangs, but zt app exists. service shows running, but UI is "waiting for System service"
This topic was automatically closed 30 days after the last reply. New replies are no longer allowed.