Hello everyone,
I've got the below route table on my windows machine, the 10.235.0.1 interface is my ZeroTier connection and I'm trying to reach various devices on the 10.235.0.0/16 network.
I can't connect with any devices on the ZeroTier (10.235.0.0/16) network and if I do a tracert on an address, Windows always chooses my default gateway on the local network (172.16.0.19). This doesn't seem right as there is a more specific route in the table (10.235.0.0/16 via 10.235.0.1).
Can anyone suggest how/why Windows might be refusing to use the more specific route?
Thanks.
ZeroTier Routes (From GUI)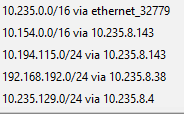 Windows Route Table