Good morning Everyone !
I hope all is OK, and everyone is healthy !
I have recently installed ZeroTier One Basic on three nodes - A, B, and C in two different networks (LANs on different WANs)- 1, and 2. Nodes B, and C are in network 2. The embedded is what I see on the three nodes' "show networks…"- feature :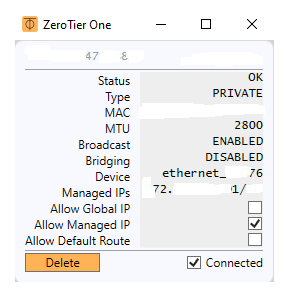 The three nodes are on the same ZeroTier Network.
Additionally, I have subscription to one of the commercial anti- virus' solutions that is installed on nodes A, and B. It also comes with a VPN.
I can "see" A, and B in ZeroTire Central as "online" hence I can use some remote services, only when the anti- virus' VPN is ON on both nodes. Then I also see the ''vpn"- ips as "physical ip" in ZeroTier' "network"- tab too.
Yesterday, node A was moved to a different network- 3, that is heavily monitored, and firewalled, and I was able to access remotely device C on network 2, and the anti- virus VPN was OFF (it is not installed on C anyways).
Can you help me understand what is the reason for this behavior ?
Thanks, and Best,
Asen