If we will subscribe for professional, is there any minimum number of months before we can unsubscribe?
Anyone? We're planning to subscribe for professional.
Just want to confirm if we can unsubscribe to professional anytime?
Appreciate if someone will confirm this. Thanks.
Anyone? We're planning to subscribe for professional.
Have you tried contacting sales?
Yes. Below is the email response.No more response from sales.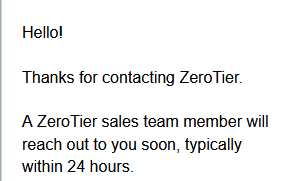 If they haven't heard back, it might be a good idea to try again. You could also point out that it's your second attempt to give them an opportunity to investigate why they didn't respond the first time.
Tried again yesterday but no response until now.
Then I guess it's something wrong with the Contact the ZeroTier Sales Team form. Try using the other channels in About Us or just call/mail them.
Please bare in mind this is a user forum thus there are limitations on what we can help out with.
Btw, did you check your email spam folder?
Yes but no emails from ZeroTier
Okay, but as I explained earlier, there are plenty of other ways and channels you can use if it's urgent.
This topic was automatically closed after 30 days. New replies are no longer allowed.