Hi. Yesterday I started the update of my main computer to 1.8.4. I was on 1.6.5. I try ten times, rebooting, uninstalling, reinstalling 1.6.5, uninstalling, stoping zerotier service through services.msc, etc.
The problem with 1.8.4 was two setup screens stucked forever without finishing installation. One is the one in this attach, and the second window I think I remember it says only a text 'Preparing…'.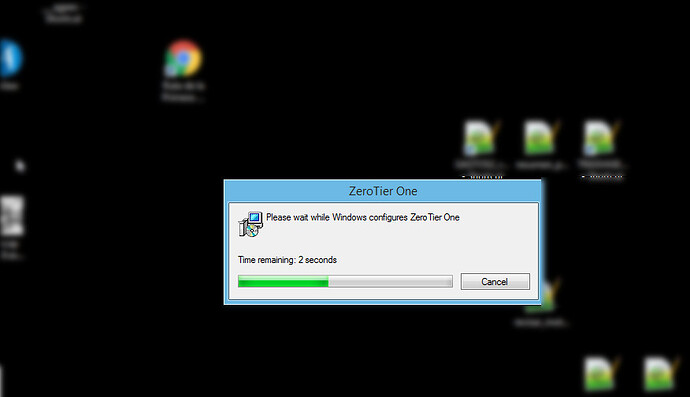 The funny thing is that when I'm in this stage… my pings to zerotier networks reply perfectly. And zerotier is up and running at the taskbar, and if I enter zerotier central, I see this machine online, green and ON 1.8.4!!!. The problem is that if I close windows or logoff while the 'Please wait…' zerotier setup screen is still there, I think it is marked in some way by the system, that windows removes the unfinished installation of 1.8.4 when restart. It does something that when I re-enter windows, there is no trace of zerotier 1.8.4. App doesn't open any more.
I left it all night with both screens and nothing happened. Both unfinished windows were there in the morning.
In the morning I try 1.8.1 and went smooth!. No problems. I saw a new window saying something like 'Installing Microsoft Edge webview2…' and finish without problems. With 1.8.1 installed I try then 1.8.2 over it, and no problem, 1.8.3, no problem, 1.8.4 and stucked again.
This time only one window stucked. The 'Please wait while windows configure zerotier one, X seconds remaining…' And got stucked there (again 1.8.4 working in the background but)… as soon as I reboot, 1.8.4 dissapears and I'm on 1.8.3 working version again :-/
Conclusion, 1.6.5 to 1.8.3 upgrades ok, 1.8.4 isn't working for me.
I'm on windows 8.1 Enterprise 64b (16gb ram). Thanks for hearing.